Fashion Ideas – Women's Leather Jacket In 2023
Every woman has a leather jacket in one corner of their closets or there is always a deferred thought of "I'll buy one". You can wear your jacket throughout four seasons, without doing any expensive maintenance. You can create eye-catching combinations, form an impression like you have cared much more than you do while you are dressing, and you can also create very stylish outfits without wasting a lot of time and money. There are many ways to create a spacious style with a leather jacket, and as Black Noble, we will discuss about some outfit ideas that we hope will inspire you not to leave your jackets in the summer.
Bring your sportswear to your daily life.
On weekends there is always the idea of walking around on the streets with a comfortable outfit. But the possibility of coming across with acquaintances may discourage you from going out without taking care of your clothes. As Black Noble, we do not have any bold advice about pyjamas, but we have a good idea about your sportswear. Wear your sneakers, sports clothes and do not forget to take your All For Me Today leather jacket as well. Now you are quite far from the "I just got out of bed" mood.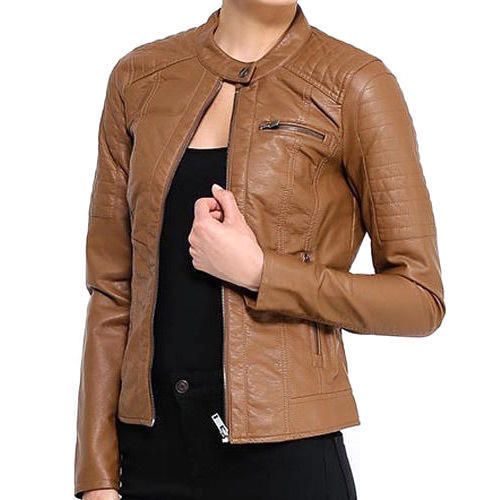 Add Details to Your Simple and Elegant Dress
You can think of a woman's leather jacket with an elegant dress (you can choose a white sleeveless dress). In this choice, where you can find a perfect match with boots that have the same colour as your leather jacket, we recommend you to choose a women's leather jacket with metal details. Depending on your preference, you can also add movement to your jacket with metal accessories.
Keep up With The Unstable Spring Weather
If you are away from your wardrobe during the day in spring, you should think carefully. You might have a difficult time in the hot weather of the following hours with an outfit that protects you from the morning chill. You can wear a leather jacket with your shirt and take a trench coat as well. When the weather gets hot, you can take off your extra coat and adapt easily.
Leather Jackets and Jeans
A black leather jacket goes with any outfit, but you may be surprised to see what you can do with coloured leather jackets. Always wear a light colour blouse with your jeans and also by taking a All For Me Today leather jacket you can have a perfect fit. If you can't find a jacket as you like, take a quick look at our All For Me Today  products, we are sure that a jacket will catch your eye. With this combination you will feel extremely comfortable and you can have a pleasant tempo all day.
---